6S shaking table
Shaking Tables are designed to wet gravity-based separation of minerals and other granular materials. It is effective in processing precious and base metal, rare metal and non-metallic minerals.
Machine Details Show
Gold Shaker Table Working Principle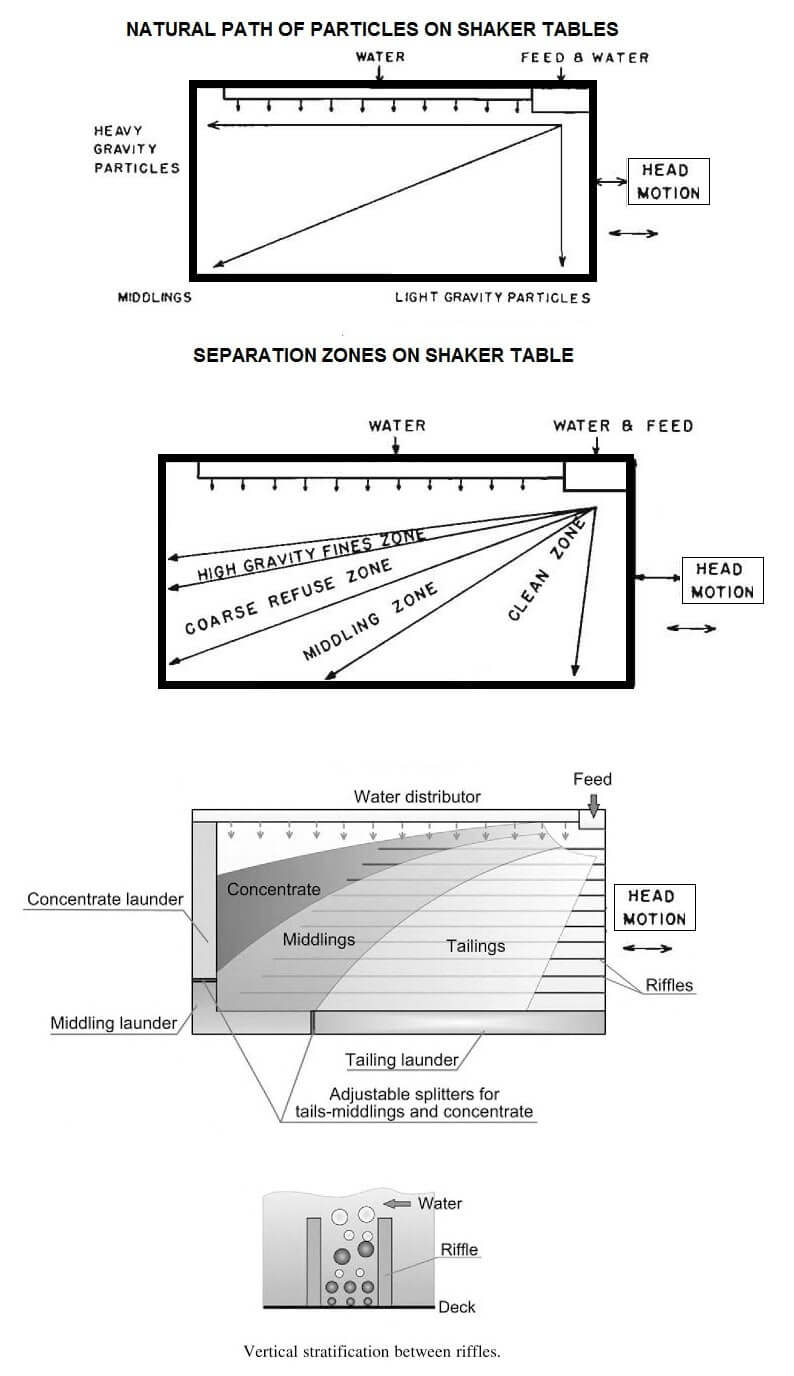 Description & Technical Data
Structure 
1.Head Motion
The head motion is of rugged construction and requires minimum maintenance. Its internal mechanism is splash lubricated from an integral oil sump.
2.Decks
The decks are built of 16 mm zircon-reinforced fiberglass with fabricated steel frames at the bottom and are easy to clean, requiring little maintenance. The specific gravity of fiberglass made into decks is one third of that of steel, while its strength reaches as high as 70% that of steel. This fiberglass desks also has the characteristic of water-resistance and corrosion-resistance and can hold the shape unchangeable at ±50℃.
3.Feed and Water Box   
A wooden feed distributing box with hopper and a long water box are attached to the iron of the deck, giving a very even distribution of feed and water.
4.Base
A choice of ordinary type, groove steel support or big channel steel  support is available.
Shaking table Decks
Shaking Table have three distinct deck designs available.
—
Course ore deck is designed for recovering particles size from 0.5 mm to 2.0mm;
—
Fine sand deck is designed for recovering fine particles in the range of 0.074 mm to 0.5 mm;
—
Slime deck is designed for recovering super extremely fine particles in the range of 0.05 mm to 0.074 mm.
Technical Specification
| ITEM | Unit | Coarse ore Deck | Fine sand Deck | Slime Deck |
| --- | --- | --- | --- | --- |
| Length | mm | 4500 | 4500 | 4500 |
| transmission end width | mm | 1830 | 1830 | 1830 |
| Concentrate end width | mm | 1530 | 1530 | 1530 |
| Maximum Feeding Size | mm | 2.0 | 0.50 | 0.15 |
| Feeding Amount | T/D | 30-60 | 10-20 | 15-25 |
| Feeding Density | % | 25-30 | 20-25 | 15-25 |
| Stroke | mm | 16-22 | 11-16 | 8-16 |
| Frequency | r/min | 45-48 | 18-53 | 50-57 |
| Water Amount | t/d | 80-150 | 30-60 | 10-17 |
| Transverse slope of Deck | ° | 2°30-4°30 | 1°30-3°30 | 1°-2° |
| Longitudinal slope of Deck | ° | 1.4 | 0.92 | — |
| Beneficiation Area | m2 | 7.6 | 7.6 | 7.6 |
| Cross-section Shape of Deck | | rectangular | saw tooth | triangle |
| Motor Power | KW | 1.1 | 1.1 | 1.1 |
| Transmission Mechanism | | Eccentric linkage | Eccentric linkage | Eccentric linkage |
| Weight | Ton | 1.0 | 1.0 | 1.0 |
Our Machines In Clients' Mine Site
Get Inquiry Today!

Or Directly Call Service Phone No.: 0086-18970706487